Passivhaus is the leading international low-energy design standard. With over 30,000 Passivhaus buildings completed worldwide, it offers a robust, proven and cost-effective method to help the UK achieve its challenging carbon reduction targets for the built environment sector.
Passivhaus buildings provide significantly improved comfort and indoor air quality, as well as much lower heating bills. They are built with meticulous attention to detail and rigorous design and construction, according to principles developed by the Passivhaus Institut (PHI) in Germany, and can be certified through an exacting quality assurance process.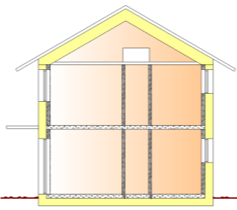 Elimination of thermal bridges
The Passivhaus standard can be applied to new build and retrofit buildings of all types, providing a robust method to help the industry achieve the carbon reductions leading towards Zero Carbon. Through improved fabric and services, Passivhaus can achieve real energy demand reductions below the level proposed for building regulations.
Additionally, there is growing evidence that Passivhaus buildings are achieving savings expected, in energy and running costs, largely due to the robust quality assurance process they undergo.